Woooweeee. I was busy this summer. I had a great time, though. I love the playground and the pool and running around half naked. I also love going to Holy Cow for ice cream. "It's really really cold."
I went to Mystic twice (to my Grammy & Grampy's "new" house) and went on my Grampy's boat. I loved wave hopping — I would say "whoa, whoa" whenever a wave came. My favorite thing to do is go on the beach and wake the clams. I would toss rocks into the water and the little clams would squirt!
My birthday was a lot of fun. I invited my friends over for a Mexican fiesta. The day coincided well, as it was the same day as the Red Hook Fireman's Parade. So, we took a wagon caravan downtown and watched the fire trucks go by. It was fun, but loud! They would do their siren, which was shocking and sometimes scared us.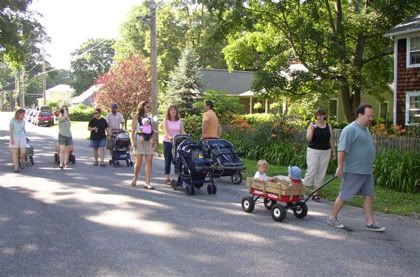 I have started singing along to songs. My Dad started a singalong group called Shindig and they had a party. I got to go for a bit. I sang "Downtown," one of my favorites. I also love to sing "Build Me Up Buttercup."
I went to the Dutchess County Fair with my Grandma and Grandpa and Mommy. It was fun. I saw pig racing! There were a lot of animals there and I went on a few rides. My favorite ride is the carousel.
Mom has taken me down to Grandma & Grandpa's every week so they could watch me when she goes to the office. It is so much fun, I don't want to leave. Mom and I have good conversations in the car during the commute. Sometimes we sing along to songs together.
I have had a great time playing with friends this summer. I have discovered the joy of the "bathdate," when Eva and I will take baths together. We like to rinse each other.
I am quite a hoot. Some quotables:
Jen: "You're an only child."
Sophie: "No, I'm a Sophie."
You have a boo-boo, I'm sorry.
Sophie: Look at all this mess!
Grammy: Who made this mess?
Sophie: Sophia.
You know what? My sister… (I'd say this and then not say anything that my sister did, and it took me a while to grasp that I actually don't have a sister. I was just mimicking another kid I heard at the Mystic playground!)
Jen (explaining why Sophie had to get dressed before going out for a wagon ride): Public nudity is against the law.
Sophie: Why?
Jen: Because people are-
Sophie (cutting off Jen): Because of gravity.
"I like nursing. It makes me giggle"
Unprovoked, 7/11/05
"That's a fun song, isn't it? It's silly."
Listening to "Build Me Up Buttercup," 7/27/05
"One for nursing, one for squishing."
"Like a sandwich."
Two different statements about Mom's breasts
"The crayon is broken. We need batteries to fix the crayons because we don't know how the crayon works!"
Drawing with crayons, 8/9/05
Conversation, 8/10/05:
Teresa: Ada mazhum! (Portuguese exclamation)
Sophie: Ada mazhum!
Tom: Is that part of your Portuguese heritage?
Sophie: No.
Tom: Is that part of your Hungarian heritage?
Sophie: No.
Tom: Is that part of your English heritage?
Sophie: No.
Tom: Is that part of your Irish heritage?
Sophie: No, I'm just ticklish.
Sophie, to Jen on computer: 8/14/05
"Are you all done working? 'Cause I'd love to nurse."
"Hi Daddy. Let me see him. I wanna type."
Asking to type an email to Mark while Mark was downstairs on a conference call, 8/15/05
That's it for the quotes.
I have gotten a bit fond of my mom's Pooh bear. I also have a small baby doll I named Pahtee.
I finally have a new babysitter. I played with Gina for a while, now I have Sally. She's a great driveway chalk artist.
I think I am getting my 2-year molars. What a blast!! My folks had finally gotten used to a nice sleep pattern, but ha-ha! Just like old times — sleep deprivation rules!! To make my parents even more insane, I've decided to be hit or miss with naps. Why be routine? Fortunately for them, if I skip a nap, I usually am asleep by 8, but they're both so wiped by then they usually go to bed shortly thereafter anyway.
My Dad has been super busy with work. I miss him during the day and frequently want to play with him. My Mom's work is wrapping up. Her last day is Halloween. (Long story short, they gave her an offer she could refuse.) So, starting in November, it is Mommy & Me!! We're taking bets now on how long my mom lasts as a "stay at home mom" before she goes completely off her rocker.